Dr. Matthew Slaven has been a licensed Periodontist and Implant Dentist in St. Louis since 2006.  Dr. Slaven came to the St. Louis area from his home state of Indiana to complete his undergraduate studies at Washington University in St. Louis.  After graduating in 1998, he attended the University of Michigan School of Dentistry, where in addition to his clinical work, Dr. Slaven conducted research utilizing growth factors to promote bone formation.  He went on to graduate from Indiana University, earning his M.S.D. and a certificate in periodontics. His master's thesis was a comprehensive survey of over 1,000 dental implants placed by the graduate periodontics department.
Dr. Slaven's research during his graduate work uncovered his true passion for regenerative procedures and dental implants.  This knowledge and passion led to the founding of ActOn Implants in 2011, where he also currently serves as the Implant Dentist for St. Louis area patients.  He enjoys his involvement with organized dentistry and he is a member of American Dental Association, Missouri Dental Association, and the Greater St. Louis Dental Society. Dr. Slaven is very devoted to excellence in quality patient care by participating in national and international seminars, ongoing continuing education and lectures, and he has mastered the latest techniques in cosmetic and implant dentistry.
Dr. Tinker and Dr. Slaven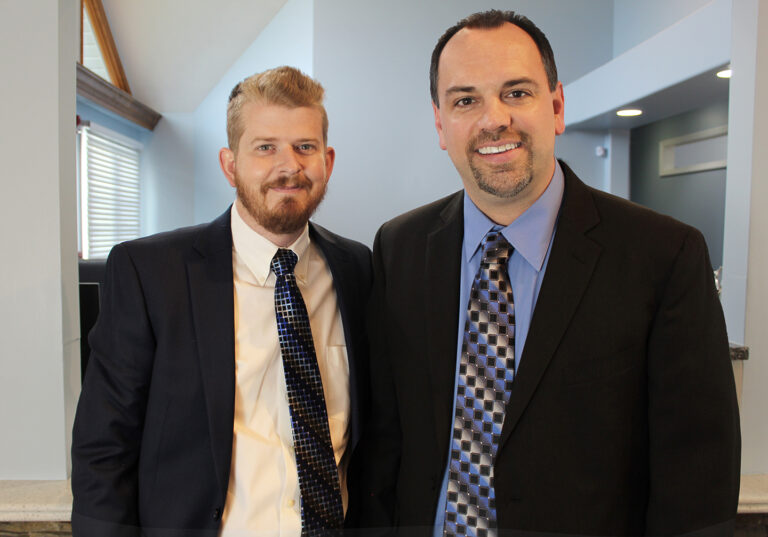 Request an Appointment
If you are ready to schedule an appointment with Dr. Tinker or Dr. Slaven at ActOn Dentistry, please click the link below.